Why you CAN wear flat wedding shoes – and where to find them!
Why do weddings make the smallest everyday items such as a pair of shoes feel like the end of the universe?
Every morning we wake up, complete our morning routine and blearily eyed, we put on our shoes and head out of the door. Do we give these shoes a second thought? Sure, might make sure we wear the polished black ankle boots with our tights instead of the old flip flops that we keep by the door for emergencies. But do you spend hours, days even, agonising whether they will go with the new dress you've bought for work? So why do we do it for our wedding?
On all of the TV shows and pictures we see, you see a beautiful bride slipping her foot into a 6" designer heel and she looks elegant and put together. But although they look nice, I know for a fact that I couldn't even stand in those heels, let alone take one of the most exciting walks of my life. Yet when I suggested to my friends that I was going to get flat shoes as I wanted to be comfortable – I was met with confusion. 'But you have to wear heels so you have nice posture' & 'but you won't feel special if you're just wearing flats' were some of their reactions. Well, on my wedding day I felt pretty damn special and I couldn't have cared less what shoes I was wearing. 

I am a very indecisive person and I like to make sure I have explored all of my options before committing to something. This meant that I spent many a night trawling through every website known to man in order to find the perfect flat wedding shoes. So, to ensure that all that woman-power doesn't go to waste, I thought I would share some of my findings with you, in the hope that it saves you some time.
These just ooze luxury and scream 'Wedding'. All Charlotte Mills shoes come with an embossed 'something old, something new' poem on the sole of the shoes and have a silver sixpence on the inside. Imagine the photographs on your wedding morning… Pinterest goals!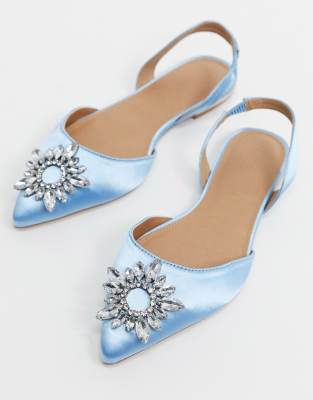 If you're struggling to find your something blue these are perfect and the big embellishment on the front is a good modern verison of those shoes from Sex and The City but FLAT. If blue isn't your thing, these are also available in a classic ivory. What's not to love? 
These are very similar to the flat wedding shoes that I wore to my own wedding (which are all sold out – I was lucky I managed to snap up a brand new pair from eBay). The pointed toe was perfect as it when I was walking in my dress it could pop out from underneath but still look classy – a pointed toe is a good option if you want to give the illusion of heels but the comfort of flats – the best of both worlds. 
I wasn't a huge fan of trainers / Converse when looking at flat wedding shoes for myself but I know that some people swear by them. If you live in your Converse and feel that they are a part of your personality then this is a great way to let that shine through. This particular pair have shiny extra bits to set them apart from your standard everyday pair, plus you can wear them time & time again and they'll always remind you of your special day – bonus!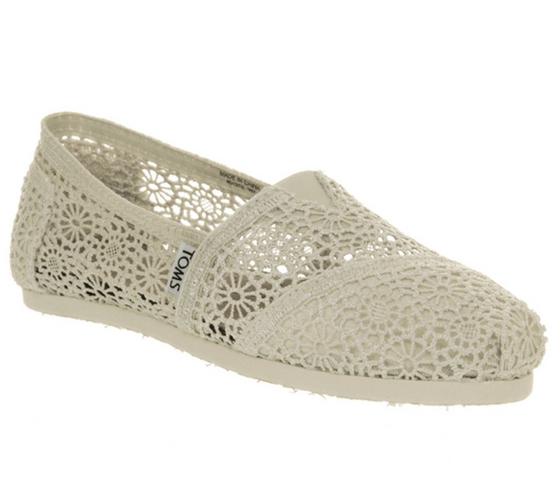 Continuing the comfort theme these are sure to make your heart feel good as well as your feet. For every pair of TOMS purchased, TOMS will donate one to a child in need. This classic lace design is fitting for a bride & the feeling that you're doing something good will make you radiate from within.
If you change your colour theme so often that you're still not sure what colours your bridesmaids will actually turn up in on the day, these are the shoes for you. You purchase your shoes, try them on and then by purchasing a colour pack and returning your shoes to Rainbow Club you can have them dyed any colour you want. Literally any colour. Their experts will accurately match your shoes to any fabric or swatch that you desire. Or if you prefer, you can just keep them in their classic ivory satin.
Each shoe features padded lining and underfoot cushioning so your favourite walk will also be your comfiest.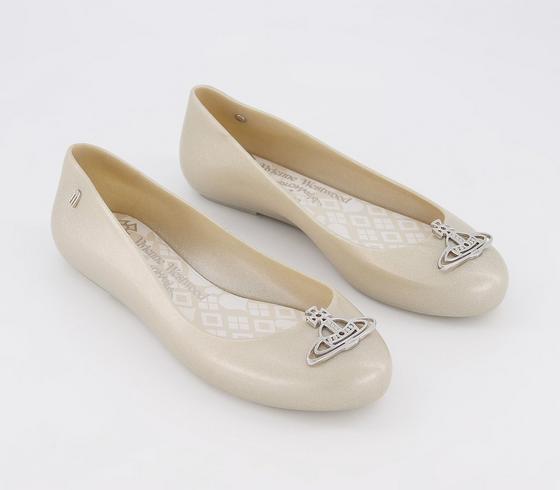 If you thought your dreams of coveting designer footwear for your big day died when you vowed to wear flat wedding shoes… think again! Available in Blush & 'Moon Shimmer' with rave reviews, these will be a pair that you can't wait to un-box.
So there we have it, you can be stylish and comfortable on your wedding day. Although, TV and Films would have you believe it, you don't have to add inches to your height to be a glamorous bride. Enjoy the rest of your wedding planning in the comfort of your flat wedding shoes.
If I find any more amazing flat shoes I'll add them over on my Instagram so be sure to follow there – @BrideFinds